In 2015, Gov. Asa Hutchinson began an initiative to support and promote our state's military installations and related economic development interests. "The nation's military presence in Arkansas through our bases and our defense contracts plays a vital role, not only in the defense of our country, but also in the economic stability of the state," he said at the time.
In fact, defense spending in fiscal year 2015 supported approximately 62,400 jobs, produced $3 billion in labor income, affected the state's gross state product by more than $4.5 billion and generated nearly $330 million in state and local tax revenue.
So, what exactly are the installations adding to the value of the nation's defense and the state's economy? Arkansas is currently home to five: the Little Rock Air Force Base, the Pine Bluff Arsenal, Camp Robinson (Camp Pike) in North Little Rock, Ebbing Air National Guard Base in Fort Smith and the Fort Chaffee Joint Maneuver Training Center, also in Fort Smith.
Little Rock Air Force Base
In operation since 1955, the Little Rock Air Force Base now has more than 7,500 active duty military and civilian members. In the heart of Arkansas, the base is made up of more than 6,000 acres, including one runway and one assault landing strip.
Its host unit is the 19th Airlift Wing (19 AW), assigned to the Air Mobility Command 21st Expeditionary Mobility Task Force. With the largest fleet of C-130 Hercules fleet, the 19AW provides humanitarian aid to victims of disasters and airdrops supplies and troops in the heart of contingency operations in hostile areas.
One of its base partner units, the 314 Airlift Wing heads the C-130 Center of Excellence, which serves as the only C-130 training base for the Department of Defense, U.S. Coast Guard and 47 allied nations and is the largest of its kind in the world. The center is responsible for training more than 1,200 students annually.
It works hand-in-hand with the 189th Airlift Wing of the Air National Guard, another base partner, for initial qualification training and continuing education for C-130 pilots, navigators, flight engineers and loadmasters from all branches of the military in tactical airlift and aerial delivery.
The base also houses the 913th Airlift Group, a part of the 22nd Air Force, Air Force Reserve Command. The group flies C-130s on tactical airlift missions, but is capable of providing worldwide support, including aeromedical missions, weather reconnaissance, natural disaster relief missions and more.
Pine Bluff Arsenal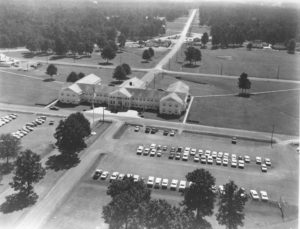 Established in 1941, the arsenal first served as a magnesium and thermite incendiary munitions manufacturer on nearly 15,000 acres. During World War II, the arsenal expanded, employing more than 10,000 civilians and serving as base operations for about 350 military personnel.
It was during that time, too, that the arsenal became a chemical warfare facility, where weapons such as lethal gases, grenades and more were produced and stored. This included biological weapons, though President Richard Nixon put at end to those types of munitions after the effects of Agent Orange, a toxic herbicide used in the Vietnam War, became widely reported.
The arsenal stopped biological warfare production, but it didn't spell the end for the facility. A portion of its work broke off to become the National Center for Toxicological Research, an arm of the federal Food and Drug Administration, which is part of the U.S. Department of Health and Human Services.
In 2005, a government contractor started on-site removal of aging munitions, including toxic agents, from World War II; the process took nearly five years. That same year, the U.S. Army selected the arsenal as a Center for Industrial and Technical Excellence (CITE) in chemical, biological, radiological, nuclear and explosive (CBRN-E) materials.[1] Since 2011, the site has produced chemical defense clothing and filter systems, along with chemical, smoke, riot control, incendiary and pyrotechnic mixes and munitions.
Camp Robinson (Camp Pike)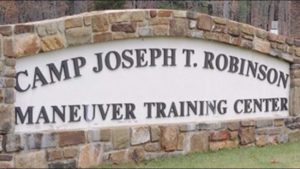 Camp Robinson dates back to 1917, making it Arkansas' oldest installation. At that time, the federal government needed to create temporary posts that could house and hold training for thousands of soldiers to fight in World War I. The current site in North Little Rock was selected after the Little Rock Board of Commerce (the equivalent to a Chamber of Commerce) offered up the land for free.
Construction — which brought in more than 10,000 jobs — started in June 1917. Some three months later, the first troops began arriving at the camp, named in honor of Gen. Zebulon Montgomery Pike. Within three days of opening, the camp had about 1,500 men, and within three years, there were nearly 100,000 men.
Camp Pike was first an infantry training center for the 87th Division of the National Army and later turned into a demobilization center on Dec. 3, 1918.
After World War I ended, the 3rd Infantry Division stationed there through 1922, starting up a college to help soldiers return to their lives back at home.
In 1922, Camp Pike became what we now know it as today. The federal government declared the post as excess and returned the land back to the state of Arkansas. Gov. Thomas McRae raised some $470,000 from selling off unnecessary assets and used it to transform the camp into a training facility for the Arkansas National Guard. It wasn't until 1937 that the camp was renamed after Joseph T. Robinson, the former state governor and U.S. senator.
Shortly after the start of World War II, the federal government reclaimed Camp Robinson to build a new temporary facility for the 35th Division of the National Guard, which was activated for one year in December 1940. The camp covered 44,000 acres and had 6,763 buildings and 5,425 tented hutments.
The 35th Division trained on the campgrounds before taking part in the Arkansas and Louisiana Maneuvers, large-scale Army exercises to better acquaint the soldiers to combat. The division came very close to finishing out its yearlong service when the Japanese attacked Pearl Harbor. And, instead of going home, the 35th Division went west to defend the nation and made a few stops within the U.S. before heading to England and Omaha Beach in 1944.
Just the year before, the government set up camp for German prisoners of war (POW). Camp Robinson had as many as 3,000 POWs there at once.
During the World War II years, Camp Robinson also served as a Branch Immaterial Replacement Training Center, where soldiers — no matter their specialty — were trained in basic combat, and a Medical Replacement Training Center, where soldiers would be trained in medical practices. Both were later reorganized into an Infantry Replacement Training Center, which continued exercises until 1946.
Today, Camp Robinson makes up about 32,000 acres and houses the office of the Adjutant General and the Arkansas Joint Force Headquarters. It's mostly used by the Arkansas National Guard for purposes including marksmanship training and professional education.
Ebbing Air National Guard Base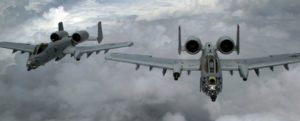 The Arkansas Air National Guard's 188th Wing is based at Ebbing in Fort Smith. The airbase was established in 1953 with the 184th Tactical Reconnaissance Squadron, which was later expanded to the 188th Tactical Reconnaissance Group.
In 2012, the unit boasted its largest deployment in its history, sending 375 Airmen and 10 A-10 "Warthog" bomber jets to Afghanistan, where the 188th wing also set new combat records.
Since its start, the 188th Wing has harbored nine different manned aircraft models and changed missions several times. Its most recent change came in 2013, when it transitioned from a fighter mission to one with multiple primary mission sets:
MQ-9 Reaper remotely piloted aircraft
Intelligence, surveillance and reconnaissance
Targeting with the world's first-ever space-focused targeting squadron
The mission change activated a new group (188th ISR Group), three new subordinate squadrons (153rd Intelligence Squadron, 288th Operations Support Squadron and the 188th Intelligence Support Squadron). It also brought about the relocation of the 123rd Intelligence Squadron from the Little Rock Air Force Base to Ebbing Air National Guard Base.
Today, the 188th Wing owns and operates more than 6,000 square miles of training area and can also practice in unrestricted air spaces up to 30,000 feet in some areas.
Fort Chaffee Joint Maneuver Training Center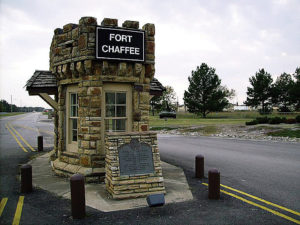 Just outside of Fort Smith, Fort Chaffee encompasses nearly 65,000 acres that's used by all Department of Defense components, including the Marines and the Navy, along with local, state and federal agencies. The space includes a river with land on both sides, proving ideal for river crossing operations and urban combat training. Maneuver training and live-fire exercises also take place here.
Fort Chaffee was another military installation that the federal government wanted to build in preparation for war. The first soldiers started arriving at the then-camp the very day of the Pearl Harbor bombing. From 1942-1946, the 6th, 14th and 16th Armored Divisions trained at Fort Chaffee, which also housed a POW camp.
After World War II, the camp was designated a fort and served as base for other divisions. In the early 1960s and through 1974, the fort underwent a series of inactive declarations and reactivations. Though, during the Vietnam War, Fort Chaffee was a test site for toxic defoliants, including Agent Orange.
In the mid-1970s, the site became a processing center, where refugees from Southeast Asia received medical screenings, were matched with sponsors and were aided in securing housing arrangements in the United States. In total, more than 50,000 refugees came through Fort Chaffee. With the new decade, in 1980, the fort then transformed into a Cuban refugee resettlement center, where more than 25,000 Cuban refugees were processed.
In 1995, the site became a subinstallation of Fort Sill in Oklahoma, and the federal government turned over some 7,000 acres to the state. The remaining 60,000-plus acres were transferred to the Arkansas National Guard for a training facility. To this day, the fort — one of nine National Guard Regional Collective Training Capability sites, and one of 12 National Guard Training Support Centers — still has essential ranges, facilities and training areas for full spectrum operations.